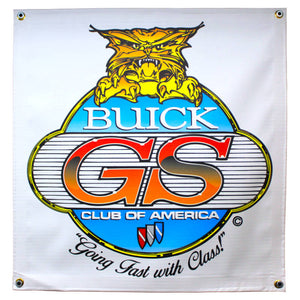 Show your support for the Buick GSCA with this high quality, hemmed edge banner with grommets for easy display.  Approx 47" square.  Select Qty above.  Made in the USA.
Pricing INCLUDES FedEx shipping to the 48 contiguous US States.
For other locations please contact us for shipping costs at: info@buickgsca.org
NOTE: If also getting a membership with a banner, and need your PRINTED GSX-tra Newsletters and the Banner to go to DIFFERENT ADDRESSES, then PLEASE place 2 SEPARATE orders so that you get things delivered where you want.