Welcome to the Buick GS Club of America (GSCA)
Now in our 42nd Year!
The Buick GS Club of America has created a legacy over the last four decades, dedicated to restoring, showing, enjoying, upgrading, and racing Buicks all across America and around the world! It started with our members having V8 powered Buicks from the 60's and 70's, and has added a very strong following of the Turbo Buicks from the 80's that are constantly gaining traction (pun intended) every year! Plus, our GSX-tra newsletter is still one of the BEST printed club publications ever produced!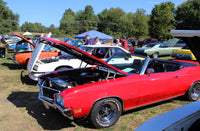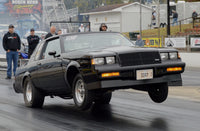 Going Fast With Class
Our members have a wide variety of Buick bodied and/or Buick powered vehicles, from vintage steel to late model rides. This includes the close relatives like the Turbo Trans Am, Syclone, and Typhoon that are inspired from the Buick Turbo V-6 as well. All levels are involved, from numbers matching restorations, show cars, daily drivers, street/strip setups, to the single fastest Buick in the world! Our motto is "Going Fast with Class", which is shown by our members with show quality Buicks that have tons of torque!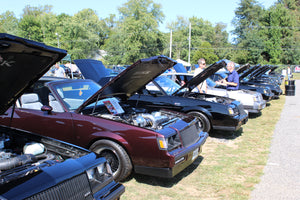 More Details...
The club year technically runs from Jan 1st to Dec 31st. You can join or renew your membership at ANY TIME throughout the year, and will get any available GSX-tra printed newsletters for the current year that you might have missed.
Simply click the button above (or near the bottom of this page) and make your selection to Join or Renew your membership. You can also Join & Renew with us at the different Buick events we attend. Checks and Money Orders can also be sent in using our info in the CONTACT US section.
As a member, you are helping us keep the Buick community ALIVE and WELL, and helping keep the Buick events going! This in-turn also keeps interest revved up and the values of our Buicks rising! THANK YOU for your participation and SUPPORT!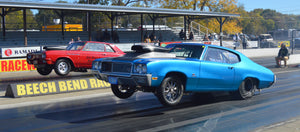 Why Join...
Be part of the longest and ONLY performance / restoration Buick club still running! 42 years and counting! Get connected to a GREAT community filled with people that LOVE Buicks and like to Go Fast with Class!
Each member will receive a top quality printed newsletter (the Buick GSX-tra) mailed 4 times a year (see note above if joining late). They are full of interesting stories, NEW articles that focus on Buick specialty parts manufacturers + top builders + tuners + legends in the Buick community, articles on members cars + build-ups, unbiased product testing, information on ALL Buick events across the USA, member classifieds, and LOTS of tech articles on just about anything that can improve upon our Buicks. This will include exclusive and original Copyrighted content, that will NOT available on the internet. We are also committed to constantly improve the Buick GSXTRA newsletter with more color, more pages (the 2nd issue of '21 was almost DOUBLE in size)!
NEW, started 01/23/2020, Custom DIGITAL UPDATES will be sent via E-Mail (enter your E-Mail below and click SUBSCRIBE). This will be a NICE LOOKING update with PICTURES and information pertaining to the Buick GSCA, regional events, parts manufacturers, vendors & advertisers, special promotions, classified ads, new stuff, continued stories from GSX-tra articles, and anything else that the members can benefit from seeing! These are scheduled for every 3 to 4 weeks, and sent out usually around Fri to Mon. PLEASE watch your spam or junk folders, since quite a few people tell me it ends up there for some reason. Previous updates are also available through a link on each update in the top left corner, that way you don't miss out on any.
Each member receives a permanent Buick GSCA member number, which can be used as your car # at Buick events also. Sometimes previous members with lapsed memberships can get their old number (if still available), just ask us for it.
Access to GSCA Club Performance Parts that are available exclusively at a special price to members only. This is a section that we intend to GROW quite a bit as time goes on.
Discounts on other products and parts from various manufacturers throughout the year, including group purchases and new product releases.
Additional prizes and/or payouts at Buick events nationwide (never done before!), as long as you are a GSCA member before the event starts.
Free entry for any GSCA raffle items for GSCA members. (NEW idea!)
The new owner Paul Ferry (aka HRpartsNstuff) has been outspoken for the benefit of the members for over 24 years in the club, with a new goal to constantly improve on the experience and value for the members. There is a new and exciting vibe within the Buick community that we started to notice at the 40th anniversary, which is fueling all kinds of new and exciting ideas to give more back to the members! The previous owner (Richard Lassiter) is still helping as a contributing editor, with his incredible knowledge and experience of Buick related information over the years. That now gives members the best of both worlds! We would LOVE to have you be a part of all the excitement and help us support everyone as we try to keep the Buick passion alive and well for as long as we can!
More INFO on the Buick GSCA...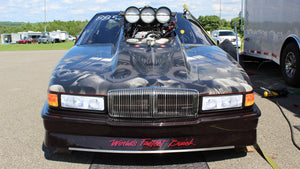 Worlds FASTEST Buick! - Rod Hendrickson
The cost of membership in the Buick GSCA is only $52 per year for US residents (just $1 a week!), and a little more for NON-USA addresses due to higher mailing costs ($64 for Canada and $69 for other countries). Being a member helps us all stick together as state and federal mandates continue to attack internal combustion powered vehicles on the track and the street!
Buick GS Nationals Car Show - Lot's of Classes!
This website is setup to safely and securely accept credit card payments and PayPal. If sending a check, PLEASE include your member number (if you have one already), your contact info (phone and/or E-Mail), and make the check out to: GS Club of America, and send to PO BOX 67, ATWATER OH 44201.
2021 Editor's Choice Award
Somehow I found time to build my 1st trophy, and awarded it to Perry Carlini with his cool looking wagon at the '21 Buick GS Nationals! His car just stood out to me as a great example of "Going Fast with Class"! My goal is to do this at the Nat's every year, and at every Buick event if I have time to make enough. The bigger the club gets, the more stuff like this we can do for our members!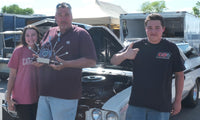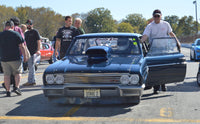 Share Your Story!
Members are ENCOURAGED TO PARTICIPATE in the Club also, since it was created decades ago for everyone involved! SENDING us an E-Mail with stories and helpful tech info for articles (that would be of interest or a benefit to others) will continue to help keep the Buick name ALIVE and WELL, and keep us all "Going FAST with CLASS!"
Some of our N.E. Chapter
PLEASE KEEP IN MIND that THIS CLUB EXISTS to BRING TOGETHER EVERYONE that HAS AN INTEREST IN BUICK'S or ANYTHING RELATING TO BUICK'S, for EVERYONE'S BENEFIT! The Buick GSCA will do it's best to help keep the interest and activity going strong for ALL the Buick events, and make the Buick community stronger, healthier, and more enjoyable to be a part of for years to come!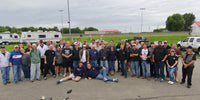 2023 EVENT INFO:
42nd Annual GS Nationals, May 17th - 20th, Bowling Green KY - Contact Richard Lasseter: (229) 244-0577 9am - 1pm (EST) https://www.facebook.com/BuickGSNationals/
========================
Buicks at
Bates Nut Farm, June 4th, Valley Center, CA - BuicksatBates.com
========================
Buick Bash at the Quake, June 15 - 17th, Salem OH - Contact Denny Moore (330) 647-3615 GSCA3216@aol.com -OR- John Csordas JR (914) 469-8617
========================
ROA National,
June 21-24. 2023, Kalamazoo, MI - www.rivowners.org
========================
BCOP Race (Buick Cadillac Olds Pontiac), July 14th - 16th, Beaver Springs PA - Contact John Csordas JR (914) 469-8617
Thank YOU for your support!
I am truly BLESSED to be part of such a GREAT GROUP OF PEOPLE!
Every member of the Buick GSCA plays an important role in all of this! Your effort, support, and participation is GREATLY APPRECIATED by myself and MANY others!!! Keep in mind, the more members we have, the more perks we can put into place! Like awesome trophies, new club shirts, calendars, give-a-ways, and MUCH MORE - throughout the year and for as many Buick events out there as possible (suggestions are welcome)!
Our plans include having a LOT more stuff available online too (pictures, extended stories, archives, tech help, classifieds, and more!) once we get things rolling with this new website.
2 Corinthians 8:21 For we are taking pains to do what is right, not only in the eyes of the Lord but also in the eyes of man.
Our goal is to be a club with benefits and perks that other clubs can only dream of! - Paul Ferry
© GS Club of America, LLC.